November 18th 2023
Discover the Haircare Revolution: L'Oréal Professionnel's New Absolu Repair Molecular Range
Are you looking for the ultimate solution to transform your hair? Look no further! L'Oréal Professionnel has introduced their latest marvel in haircare, the Absolut Repair Molecular range, designed to bring a new dimension of vitality and strength to your locks.
The New Absolut Repair Molecular Range
L'Oréal Professionnel's Absolut Repair Molecular range is a true game-changer in the world of haircare. This line is formulated with cutting-edge technology and a carefully selected blend of ingredients that work together to repair, strengthen, and revitalize your hair.
Key Ingredients
Glycocell Technology: At the heart of this range is Glycocell Technology, a groundbreaking innovation that combines lipids and polymers to deeply penetrate the hair fiber. This technology helps to reconstruct the hair from within, providing long-lasting strength and resilience.
Gold Quinoa Protein: This powerful ingredient helps to repair and protect the hair. It restores essential proteins in the hair structure, leaving it smoother and more manageable.
Wheat Protein: Wheat protein is known for its ability to add volume, hydration, and shine to the hair. It works in harmony with other ingredients in the range to ensure your hair is not only repaired but also radiant.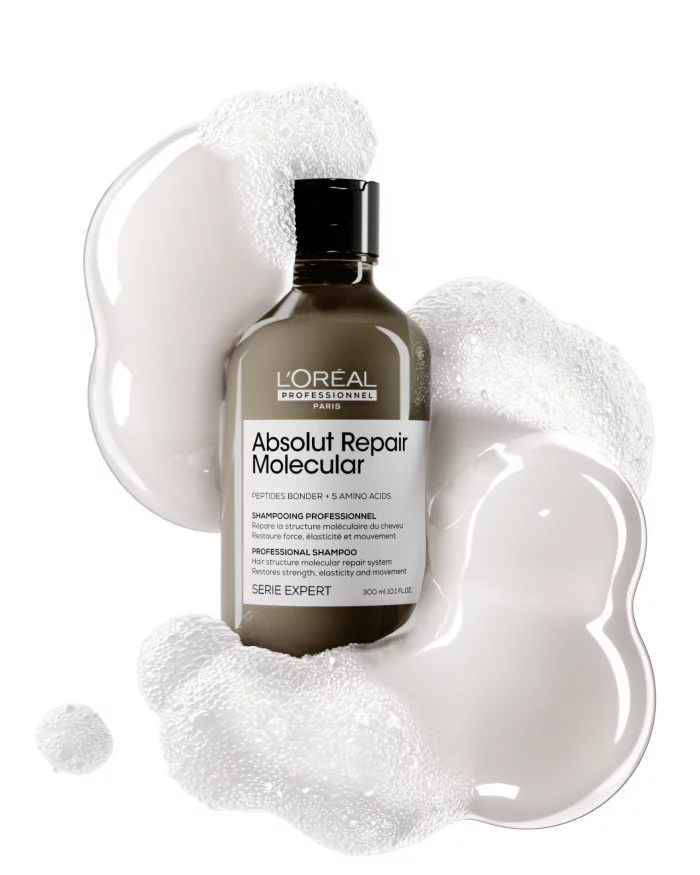 With a luxurious, salon-quality feel, the products are designed for easy integration into your daily hair care routine. The Absolut Repair Molecular range is suitable for all hair types and textures, making it a versatile choice for anyone seeking to revitalize their hair and restore it to its full, natural beauty.
Benefits for Your Hair: The Absolut Repair Molecular range offers a wide range of benefits for your hair:
Intense Repair: Say goodbye to damaged and brittle hair. This range works to repair and strengthen the hair fibers, reducing breakage and split ends.
Deep Nourishment: The ingredients in this range deeply nourish your hair, leaving it soft, smooth, and full of life.
Protection: With the Gold Quinoa Protein, your hair is shielded from environmental stressors and further damage.
Radiance: Your hair will gleam with a newfound radiance, thanks to the Wheat Protein, which adds a healthy shine.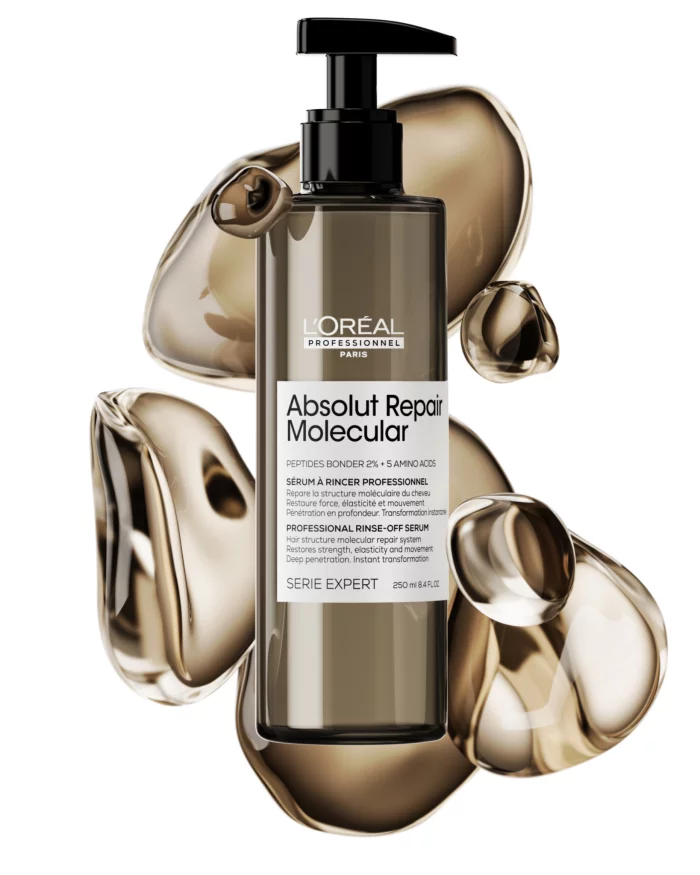 In summary
L'Oréal Professionnel's Absolut Repair Molecular range is more than just a collection of hair care products; it's a promise of transformation and rejuvenation for your hair. With advanced technology, key ingredients, and a variety of solutions to address different hair concerns, this range caters to the diverse needs of individuals seeking healthier, more beautiful hair.
Embrace the power of Glycocell Technology, Gold Quinoa Protein, and Wheat Protein as they work together to repair, protect, nourish, and enhance the radiance of your locks. Whether you're dealing with damage, dryness, or frizz, this range offers a comprehensive solution, all while providing a luxurious salon experience. Elevate your hair care routine with the Absolut Repair Molecular range and experience a new level of confidence, knowing that your hair is receiving the care it truly deserves. It's time to unlock the secrets to stunning, vibrant hair with L'Oréal Professionnel.